Fretwork - the art of scroll sawing.
Fretwork is a detailed picture made out of finely cut openings patterned into a piece of thin wood. It was originally crafted by hand using a coping saw and files but since the development of the scroll saw in the 1920's, pieces are created much easier and faster than ever before. Most modern fretwork can be found as intricate patterns on clocks, shelves, and tables, as well as silhouettes cut into individual wall plaques but forms of fretwork overlays can be traced back as far as 3000 years ago as found on furniture in Egyptian tombs.
To create a fretwork project a pattern must be applied to the wood and then pilot holes drilled into each place that needs to be cut into the piece. The blade must be removed from the saw, threaded through the pilot hole, and then reattached for each cut.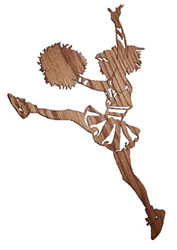 Cheerleader
Wolf
Made out of 1/4" oak
Item #F011 (7" tall) - $20.00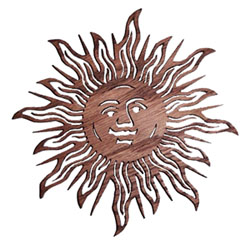 Sun
Made out of 1/4" oak
Item #F002 (6" across) - $22.00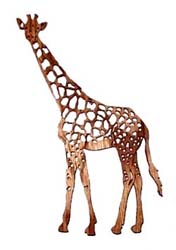 Giraffe
Made out of 1/4" oak
Item #F003 (8" tall) - $23.00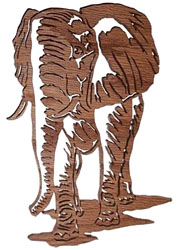 Elephant
Made out of 1/4" oak
Item #F009 (7" tall) - $22.00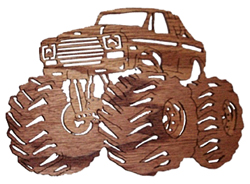 Truck
Made out of 1/4" oak
Item #F004 (7.5" wide) - $25.00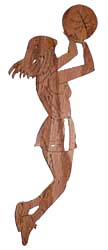 Basketball Girl
Made out of 1/4" oak
Item #F005 (9" tall) - $20.00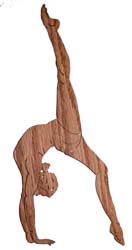 Gymnist
Made out of 1/4" oak
Item #F006 (9" tall) - $18.00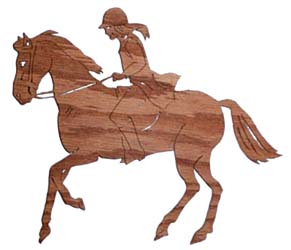 Girl on Horse
Made out of 1/4" oak
Item #F007 (8" wide) - $22.00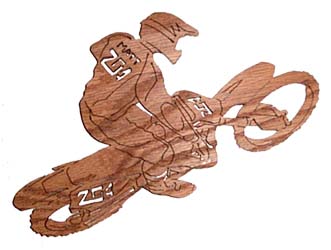 Motocross
Made out of 1/4" oak
Item #F008 (8" wide) - $25.00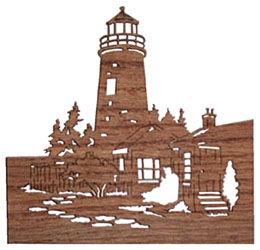 Lighthouse
Made out of 1/4" oak
Item #F010 (7" wide) - $25.00