Intarsia - where art meets woodworking.
Intarsia is the craft of using varied shapes, sizes and species of wood fitted together to create an almost 3-D inlaid, mosaic-like picture. It is thought that the word "intarsia" is derived from the Latin word "interserere" which means "to insert" and that it was originally developed in Siena, Italy in the 13th century by crafters using inlays of ivory inserted in wood as well as inlays of wood inserted into wall murals, table tops and other furniture.
Today, intarsia is created by selecting different types of wood, using its natural grain patterns and colors (rather than dyes and stains) to create the different colors in the pattern. Each piece of wood is then individually crafted by cutting, shaping, sanding, and finishing before fitting them together like a jig saw puzzle and gluing them to a piece of 1/4" plywood backing cut to the shape of the final product. Sometimes, additional pieces of plywood are used to 'raise' areas of the pattern to create more depth. Once together, a final layer of finish is applied and the project is complete.
Cat
My very first project and my own pattern design
It is made out of cedar, walnut, and bloodwood
Item #I001 (11" tall) - $45.00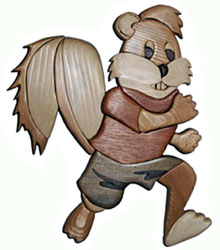 Buckie the Squirrel
My own pattern design
Made from cedar, spanish cedar, and walnut
Item #I007 (10" tall) - $60.00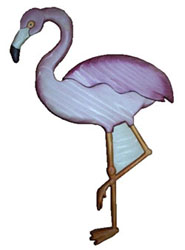 Pink Flamingo
My own pattern design
It is made out of cedar and dyed to color
Item #I002 (12" tall) - $40.00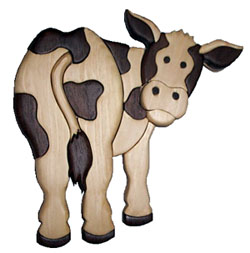 Cow
Made out of cedar and walnut
Item #I003 (10" tall) - $50.00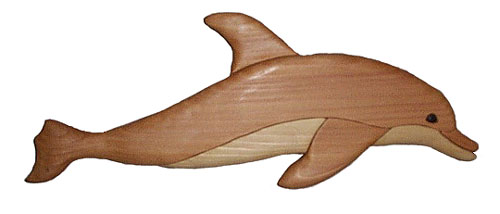 Dolphin
Made out of two shades of cedar
Item #I004 (16" wide) - $25.00
Bass
Has cedar fins, a walnut stripe and exotic hardwoods for the body
Item #I005 (21" wide) - $60.00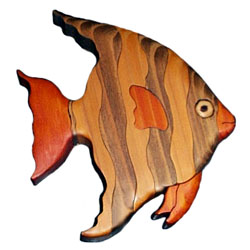 Fish
Made from cedar and stained for color
Can also be left bare wood for hand painting
Item #I006 (6"wide) - $25.00